San Francisco Observer Review, 10/19/04
San Francisco Examiner Review, 10/12/04

An informative and entertaining guide to
the many romantic corners of Golden Gate Park!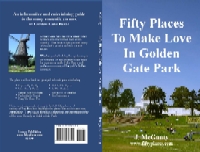 Golden Gate Park has more beauty than perhaps any other urban park in the country. This book helps you find many of the park's prettier and less-visited places.

Whether you're looking for a private spot for romance, or just an uncrowded place for a picnic or walk, Fifty Places To Make Love In Golden Gate Park will guide you to many of the park's hidden treasures. The places in this book are grouped into categories including:
* Especially Pretty
* Nice For A Picnic
* Lesser-Known Areas
* Particularly Private
* Easy To Drive To
* Out In The Open
* In The Bushes
* Good For A Quickie
* For Screamers
Convenient maps make it very easy to find all 50 places. A variety of Top-Five lists highlight the places that are in some way outstanding. Fifty Places provides a humorous yet informative tour of the secret beauty in Golden Gate Park, SF, CA.